As we near the end of this unpredictable and challenging year, I wanted to share with you a summary of AT&T's efforts in South Dakota during 2020.
We're honored to have invested nearly $60 million in capital expenditures in the state from 2017-2019 and infused more than $79,500 into South Dakota organizations in 2020 alone.1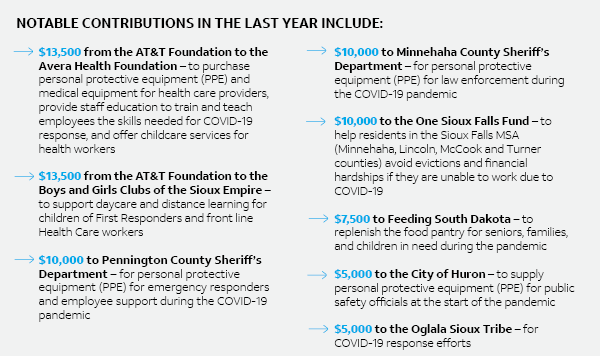 We spent the majority of our spring efforts responding to the early effects of the COVID-19 pandemic, reacting quickly to support community organizations who were addressing critical needs. We care about the communities we serve and want to do our part to address food security, health care providers, and first responders on the front lines of COVID-19. AT&T made some critical shifts in funding to help organizations like the Boys and Girls Clubs of the Sioux Empire, Avera Health Foundation, One Sioux Falls Fund, Sheriff's departments in Minnehaha and Pennington Counties, Feeding South Dakota, and others throughout the spring and summer.
While the pandemic disrupted the way each of us work, learn and communicate, AT&T worked especially hard to ensure our network met South Dakota's changing connectivity needs. As a result, we continue to invest and make progress on our network to bring South Dakotans high quality connectivity for their homes and businesses. We announced new site tower builds and upgrades that span the entire state, including many in the Sioux Falls area alone, filling wireless gaps throughout. These brand-new AT&T towers support customer connectivity and first responders benefiting the public's safety and wireless experience.
As we draw to a close and we reflect on the year behind, I'm grateful that our work at AT&T can extend beyond towers and telephones. We're always looking for ways to support our customers and employees across the nation—not only to keep them connected, but to better their daily lives. We're grateful for our South Dakota collaborators this year, and hopeful for a healthy 2021 for all.
If you have any questions or concerns, please do not hesitate to reach out to me at any time. I look forward to visiting with you soon.
Happy holidays!
Sincerely,
Cheryl Riley
1 The AT&T Foundation contributed $27,500 and the Company contributed the remainder.