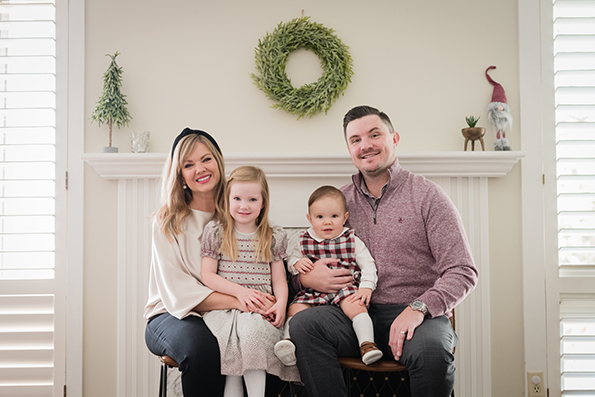 2020 has been a tough year. On top of a pandemic that has adjusted our lives as we knew them, Utahns faced two natural disasters in the midst of it, starting with an earthquake and weeks of aftershocks from the Magna quake, followed by hurricane-force windstorms that left thousands without power for nearly a week.

At AT&T, we believe in helping our communities in a time of need, and I want to close the year by reflecting on some meaningful ways that AT&T has supported our community this year. From natural disasters to protests to elections, 2020 has been memorable. I do believe that we as Utahns will emerge stronger and more united going into the new year—with new leadership on the Hill and on the basketball court.

I have missed seeing friends at holiday events this year, especially the annual open houses at the Salt Lake Chamber and Governor's Mansion, but look forward to seeing you again in 2021. Through all of this, Matt and I are grateful for a sassy "mini-me" (Quinn) and wild baby boy (Ivan) who fill our home with laughter and lightness after a hard day. From my family to yours, we wish you and your family a safe and happy new year.
Tara Thue
AT&T Committed Over $350,0001 to Support Utah Organizations
Since January, AT&T has committed over $350,000 to local organizations in 2020 to support mental wellness through suicide prevention, LGBTQ+, scholarship and COVID-19 response programs and initiatives. One of AT&T's core values is to be there when people need us. You can read more about our community investment here. A few of our notable efforts include:

Believe Salt LakeSM
AT&T launched Believe Salt LakeSM with a $120,000 commitment in September. The initiative promotes awareness and generates support around mental wellness in Utah. With Believe Salt Lake, AT&T brought together its leadership, employees and resources to work alongside nonprofits to help mitigate this issue.

Believe Salt Lake connected AT&T employees to volunteer opportunities with local organizations such as Encircle and SafeUT.
Read more here.
1 AT&T contributed $317,500, and the AT&T Foundation granted $33,000.

AT&T Public Safety Heroes Scholarship

In a time when the world's first responders are in even higher demand than usual, five students from Dixie State University's Emergency Medical Services Program received financial support from the AT&T Foundation to help prepare them to work in the emergency response field. See more here.
"We are so grateful for the AT&T Foundation's commitment to addressing the needs of our growing region by helping support our future first responders," Dean of DSU's College of Health Sciences Eli Bermudez said. "Our Emergency Medical Services Program has been preparing students for career opportunities in the first responder network for more than two decades. As a result, hundreds of students have found meaningful careers and are now saving lives, particularly as we work collectively to navigate a worldwide pandemic."
AT&T Invests $175 Million Over Three-Year Period to Keep Utah Connected
AT&T is proud to have the nation's best and also fastest wireless network,1 as well as the largest network in North America.2 From 2017-2019, we invested more than $175 million in our wireless networks in Utah, including nearly $100 million in Salt Lake City, to expand coverage and improve connectivity in more communities.
Read more here.
1 Best Network based on 2019 GWS OneScore. Fastest based on analysis by Ookla® of Speedtest Intelligence® data median download speeds for Q2 2020. Ookla trademarks used under license and reprinted with permission.

2 Based on comparison of carrier owned & operated networks. No AT&T on-net coverage in select countries, including Canada.